Reversal of fortune in superpower sentiment
US business confidence on the rise as China falls away
New research from Grant Thornton's International Business Report (IBR), a quarterly global business survey of more than 3,200 businesses in 44 economies, reveals a dramatic reversal of fortunes for business leaders in the world's two largest economies. While US businesses are feeling more confident about growth in their operations and the economy, optimism amongst peers in China has slumped to the lowest level recorded in IBR history.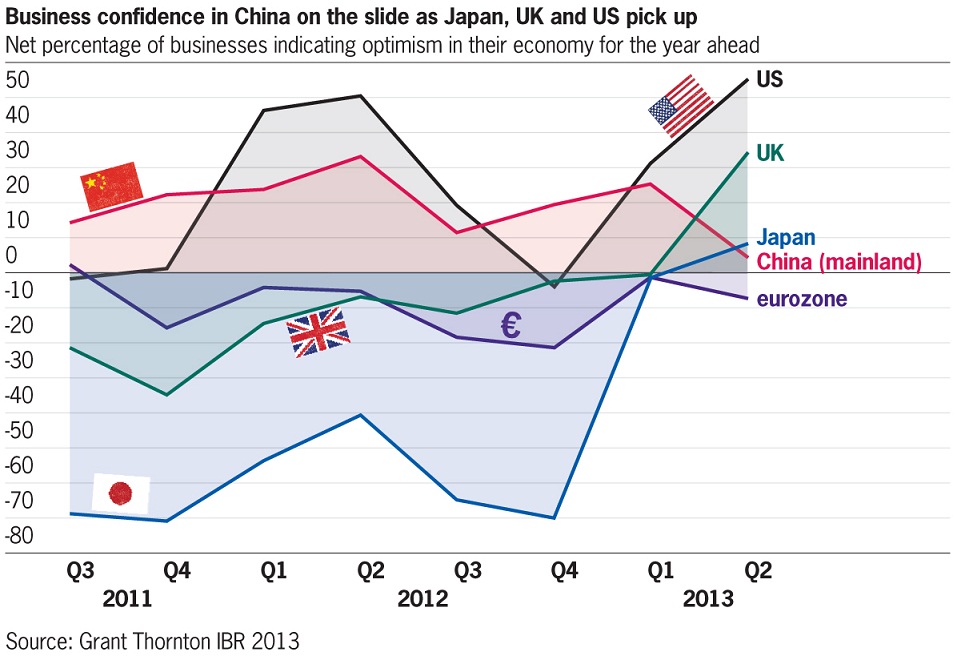 The IBR reveals that US business optimism climbed to net 55% in Q2, up from 31% in Q1, and the highest level recorded since 2005. This improving sentiment flows through to US business growth expectations; net 59% expect to see revenues climb over the next 12 months, up from 46% in Q1, and 48% expect profits to grow, up from 42% three months previously.
By comparison, business optimism in China fell to just net 4% in Q2, down from 25% in Q1 and the lowest level since 2006 (when businesses were first interviewed in China for IBR). Chinese businesses are less confident about increasing revenues (down from net 72% in Q1 to 60% in Q2), exports (29% to 15%) and profitability (69% to 42%) over the next 12 months.
Ed Nusbaum, global CEO at Grant Thornton, commented: "The divergence in the data is relative in that China is coming off a big high and the US off a deep low. Ultimately global growth prospects would be best served by a strengthening of both markets but broader macroeconomic trends are feeding into business sentiment.
"In the US, the Federal Reserve recently suggested it could wind up its programme of quantitative easing by this time next year if the economy keeps improving. Meanwhile rising house prices, increased construction starts and continuing strong stock market performance are helping to boost both business and consumer confidence.
"By contrast, China's economy is slowing. Exports grew by just 1% in May due to weakness in key markets such as the EU. And the new leadership appear eager to rein in credit growth with fears that a housing bubble is building. The downside of course is that this reduces the spending power of businesses and consumers and the People's Bank of China has since had to inject liquidity into its banking system last month to stave off a credit squeeze."
Global business optimism holds as Japan and UK rally
An improvement in G7 business confidence in Q2 balanced out a slide in that of the BRIC economies. In the UK, business optimism climbed from net -1% in Q1 to 34% in Q2, whilst sentiment in Japan turned positive for the first time in IBR history, rising to net 8% fuelled by the stimulus and reform measures of the new leadership, dubbed 'Abenomics'.
Eurozone business confidence remains fragile however, sliding to net -8% in Q2, down from -2% three months previously. Mirroring China, business sentiment dropped in the other three BRIC economies, meaning G7 business optimism (32%) climbed above the BRIC average (23%) in Q2 – another first in IBR history.
- ends -
John Vita, Director, public relations and external affairs, +1 312 602 8955
Dominic King, Editor, global research, +44 (0)207 391 9537