At Grant Thornton, talented people are at the heart of our strategy and drive all of our successes in more than 140 countries.
Vietnam Private Equity Quarter 4, 2013
This report is the 10th bi-annual report that Grant Thornton Vietnam has released looking at investment sentiment and outlook for the Private Equity sector in Vietnam. The results in this report are based upon survey responses provided by decision makers working in the Private Equity space. Respondents are located both in and outside Vietnam and are involved in Vietnam's Private Equity sector.
In this study we have again sought to understand the current sentiments of investors in Vietnam towards the economy generally, their industry preferences and the impediments to investment. This survey was undertaken in November 2013.
Year 2013, the Vietnam economy has seen a number of optimistic trends and recovery signals from the economic downturn. In 2014, the Vietnam Government expects to see improved macro-economic conditions to maintain the country's attractiveness and facilitate its strategy of long term economic growth.
In our 10th survey on Private Equity sector carried out in Quarter 2 and Quarter 4 every year, the respondents have shown positive views toward Vietnam's economy. In terms of investment attractiveness, Vietnam is still selected as an attractive destination by the majority of the respondents and 46% of the respondents said they would increase the allocation of investment funds to Vietnam in the next 12 months.
Report in English
Download PDF [1119 kb]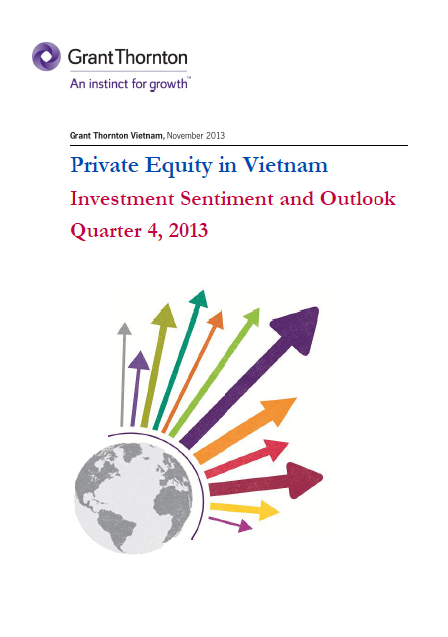 In this survey, newly added sectors include Food & Beverage, Clean-tech, Software and IT. Food and Beverage is assessed as the most attractive industry in Vietnam. In addition, clean-tech is also another attractive industry both in Vietnam and globally where green energy is an urgent demand.
Regarding to the question "how to win a deal in Vietnam", local presence is considered a critical factor while difference in valuation expectation continues to be the first ranked deal breaker.
Vietnam with a reasonable history of private equity investment, we see more private equity funds now paying more attention to add value for the portfolio companies, to improve their performance for better returns.
Report in Vietnamese
Download PDF [1060 kb]