At Grant Thornton, talented people are at the heart of our strategy and drive all of our successes in more than 140 countries.
Grant Thornton Vietnam is pleased to announce the release of our Private Equity Survey 2020 – the 19th edition to our annual Private Equity Survey series.
2020 was such an extraordinary year that it would go into the world's history as a year no one could ever forget. The Covid-19 outbreak has disrupted countless lives and businesses; causing the world economy to slump as the global GDP estimated by S&P has shrunk by 4.1% in 2020.
Within this setting, the global Private Equity (PE) industry also suffered an overall 13.1% drop in the number of PE deals and a 33.8% decrease in total deal value during H1-2020 compared to H1-2019. More specifically, in the view of many managers, 2020 was a marathon to overcome multiple hurdles, namely reduction in business activities, short-term liquidity, and write-down in portfolio company valuations.
Nonetheless, Vietnam still stood out as one of the brightest spots of 2020 thanks to its effective handling of the pandemic. Wrapping up the year, Vietnam posted a positive GDP growth of 2.9%. The number of PE deals increased by 164.7% while deal value rose significantly by 353.4% in H1-2020 compared to H1-2019.
Report in English
Download PDF [3154 kb]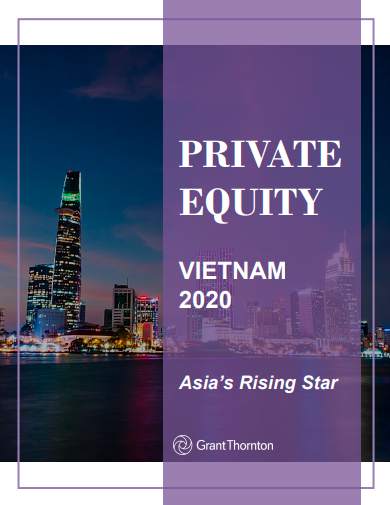 Our Vietnam Private Equity Survey 2020 has been conducted to capture the full impact of the pandemic. We would like to express our gratitude to all of the respondents for their valuable contributions. Thanks to the meaningful responses from individuals working at various institutions in the PE sector, we believe that the report would provide an unique insight of the market for such a turbulent year.
The first part of our report recaps the Vietnam economic outlook and the key sectors as well as the country's private equity landscape in 2020. The second part focuses on the Value Creation Plan, a topic that has received much attention in the private equity world in recent years.
Since acquisition prices are at record high while conventional cost reduction or leverage practices can no longer be squeezed, PE firms now have to refine alternative strategies to maximize their profit returns. As a result, a Value Creation Plan is becoming their powerful tool, enabling both sides of a deal to create significant and sustainable value with the advance of technology. We hope, through our survey, to provide our readers with more insights on the Value Creation Plan.
We hope that this study will equip you with insights for decision-making and accelerate your growth journey in Vietnam. Should you have any concerns or questions, please do not hesitate to contact Mr. Khanh Nguyen via Khanh.Nguyen@vn.gt.com.
Report in Vietnamese
Download PDF [3337 kb]