At Grant Thornton, talented people are at the heart of our strategy and drive all of our successes in more than 140 countries.
The global economic cycle has peaked and businesses face a more downbeat outlook in 2019. With risks increasing, how can businesses continue to achieve growth and thrive in the year ahead?
Among the 5,000 mid-market business leaders Grant Thornton interviewed as part of the IBR's global economic outlook, global optimism sits at net 39%, a fall of 15 percentage points (pp) from net 54% in Q2 2018. This is the weakest optimism score seen since Q4 2016.
Economic uncertainty is identified by business leaders as the biggest risk, peaking at 50%, a rise of 22pp from Q2 2018. This rise can be partly attributed to geopolitical tensions such as the US/China trade war and the upsurge of populist sentiment in many major western economies such as Italy and Spain.
However, it's not all bad news and despite the spike in uncertainty, over 60% of respondents were either optimistic or very optimistic about the future. This is reflected in export expectations with only 11% expecting a decrease and 84% of leaders expecting revenues to either stay the same or increase. Of the companies in Vietnam participating in the survey, 62% were more optimistic about growth prospects for this year 5% higher than the average for APAC.
Economic uncertainty according to IBR data (2013-18)
Download the report
Download PDF [1249 kb]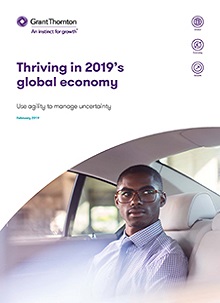 Mr Nguyen Chi Trung, CEO and Managing Partner of Grant Thornton Vietnam says: "While global financial markets are increasingly volatile, business leaders in the real economy remain optimistic because global GDP is forecast to continue growing and they know their business will grow with it. Despite increasing down side risk, economic fundamentals remain strong and opportunities exist."
Traditionally, in times of economic uncertainty, additional expenditure and investment seems counter-intuitive and many businesses tend to shore up their operations and significantly reduce or cease investment. However, this is a time when investing in capabilities and infrastructure can pay dividends and, when the economy turns, prudent businesses can react with speed to take advantage.
Vietnam of course had record levels of foreign direct investment and high domestic investment last year and this looks set to continue this year.
Vietnamese companies also were optimistic in a number of areas with 69% expecting to see higher revenue growth and 5% expecting higher profitability in 2019. In line with Vietnam's export growth projections, 49% of the companies interviewed expect to see higher export earnings this year compared to last.
On the less positive side 55% of those surveyed, in Vietnam, still considered red tape and bureaucracy a significant constraint to growth and 54% considered labour costs which could become a significant constraint to growth if productivity growth does not keep pace with wage increases.
Kenneth Michael Atkinson, Executive Chairman of Grant Thornton Vietnam: "As the economic cycle cools, it's clear that business globally won't have it as good as they did in 2018. However, with the IMF predicting global economic growth of 3.5% in 2019, there is not a clear consensus about the probability or timing of a global recession. What we are seeing is a return to normality with more balanced and sustainable growth for economies. However in Asia Pacific there is I believe a clear consensus that growth will continue at relatively high levels exceeding by a significant percentage the global average with Vietnam showing one of the highest GDP growth figures in 2019".