IFRS is one of the most popular accounting systems in the world (applied in over 140 countries and jurisdictions) which is encouraged to apply by financial management authorities in developed countries. The application of IFRS is expected to strengthen transparency and comparativeness of financial information among countries and support enterprises to approach capital markets, customers and suppliers more effectively, efficiently and economically.
Benefits from preparation of IFRS reports
By applying IFRS for reporting, enterprises in Vietnam might have the following benefits: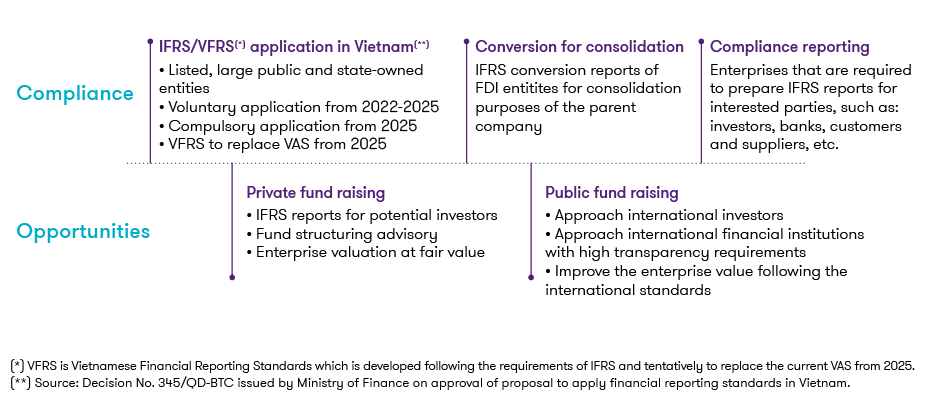 Our methodology and solution
IFRS reporting advisory serivces of Grant Thornton are carried out by our dedicated team with expertise in IFRS implementation.
We bring together our technical knowledge and industry expertise, to address the financial exporting challenges of corporations and help them manage expectations of their stakeholders and regulators.
Our four-stage solution would benefit the clients with effective approach in IFRS conversion reporting and sustainable capacity builiding through our trainings and transfers of conversion techniques.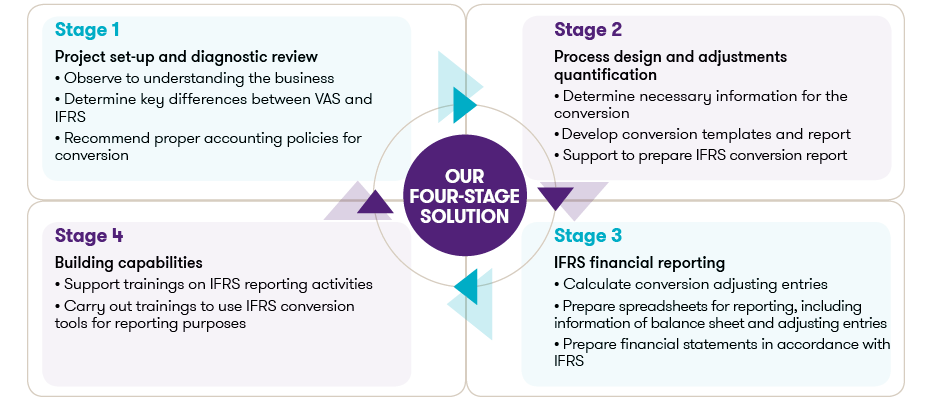 Service offerings
Conversion and preparation of IFRS reports
We support the clients to convert financial statements from VAS into IFRS and recommend accounting conversion solutions with more advantages to the entities. With our four-stage solution approach, we expect to maximize the clients' benefits and minimize the conversion costs.
Benefits to the clients
Use our tools for consolidation reporting process
Use the standard IFRS report template
Work with our local and international experts in IFRS
Receive our support and trainings to accounting teams to improve IFRS conversion techniques
High quality control by senior experts in IFRS
Implementation of new standards
With some major changes recently to accounting standards such as Revenue recognition, Financial instruments and Leases, etc. Enterprises are looking at significant changes not only to their accounting policies, but also their operation models. Changes introduced by these standards will entail Enterprise wide changes to how to measure the Enterprise's business performance and reflect its financial position.
Our solutions
Review of existing contracts to identify impact under new guidance
Perform computations for transition adjustments
Suggestions on disclosures under new standards
Training of finance team on the new standards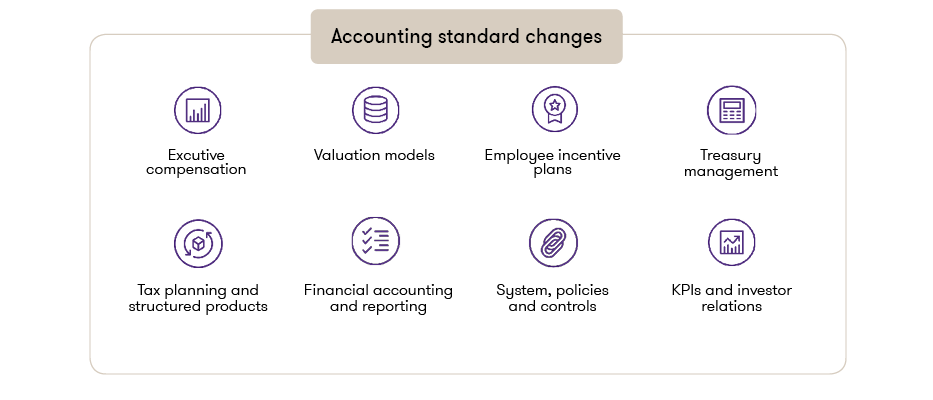 Other IFRS-related support services
Fund

raising

support

activities

Assistance in preparing IFRS financial information to be included in prospectus for IPO or capital raising
Desktop review of IFRS financial statements for assessment of appropriate accounting policies
Review of financial statement close process and identify areas of improvement
Provide technical accounting support on new transactions (e.g. restructuring, if any)
Assist in drafting responses to accounting and reporting comments provided by investors or stakeholders
Ongoing accounting advice during independent audit support
Transaction

support

activities

Post-completion purchase price allocation accounting
Evaluating accounting impact of a proposed divestment, acquisition or merger
Advise on classification and measurement of complex financial instruments
Advise on complicated standards such as IFRS 9, IFRS 15, IFRS 16, etc.
Reviewing share-based compensation arrangements for potential accounting impact
Accounting advice during independent audit support
Insights on IFRS adoption in Vietnam
Comparison between VAS and IFRS
First-time adoption of IFRS