At Grant Thornton, talented people are at the heart of our strategy and drive all of our successes in more than 140 countries.
NetSuite ERP System
The first cloud ERP platform: one unified business management suite, encompassing ERP/Financials, CRM and ecommerce.
NetSuite ERP is used in more than 200 countries, supports over 27 languages and 190 currencies — and can handle your global business with ease.
26,000+ customers worldwide
NetSuite helps more than 27,000 customers gain the visibility, control and agility to build and run successful companies.
Enterprise Resource Planning (ERP)
NetSuite ERP is an all-in-one cloud business management solution that helps organisations operate more effectively by automating core processes and providing real-time visibility into operational and financial performance. With a single, integrated suite of applications for managing accounting, order processing, inventory management, production, supply chain and warehouse operations, NetSuite ERP gives companies clear visibility into their data and tighter control over their businesses.
Benefit:
Automate Financial Processes: Improve financial operations, efficiency and productivity.
Gain Inventory Visibility: Monitor inventory levels, minimise carrying costs and deliver orders on time.
Supply Chain Optimisation: Control the flow of goods across the value chain, from suppliers to customer.
Flawless Order Management: Error-proof your order management and procurement.
Increase Warehouse Efficiency: Optimise the putaway process and reduce picking errors.
Financial
The #1 cloud financial management solution
NetSuite financial management solutions expedite daily financial transactions, reduce budgeting and forecasting cycle times, ensure compliance and accelerate the financial close. Our cloud-based platform delivers real-time visibility into the financial performance of any business, from a consolidated level down to individual transactions. NetSuite financial management seamlessly integrates with additional business applications — including order management, inventory, CRM and commerce — so you can run your entire business with a single solution.
Benefit:
Close with Confidence: Accelerate the financial close and maintain compliance with accounting standards.
Report with Accuracy: Drill down into underlying details and understand the impact to your business.
Real-time Information: Improve performance with real-time metrics and role-based dashboards.
Human Resource Capital
NetSuite SuitePeople Human Resource Management System (HRMS)
NetSuite's SuitePeople human resource management solution provides a suite of capabilities that make HR service delivery easier and more efficient for everyone, across the organisation. With a single tool to manage human resources, payroll and financials, organisations can eliminate third-party integrations, improve data accuracy, create a more engaging workforce experience and make better-informed decisions to tightly align workforce performance with business performance.
Benefit:
Reduce the Cost of Running Payroll: Run payroll in minutes without importing or manipulating third-party files, and post to your general ledger in real time.
Improve HR Service Delivery: Empower managers and employees to update their profiles, manage their teams and securely view their own HR information.
Increase Workforce Performance: Employee performance metrics built on — and updated by — NetSuite data enable more effective and engaging performance reviews.



Professional Services Automation (PSA)
NetSuite OpenAir PSA is the best-in-class professional services automation (PSA) software designed for professional services organisations of all sizes including both service-based companies and services divisions within technology product companies. NetSuite OpenAir PSA can be easily integrated with any enterprise resource planning (ERP) instances that are already in place. NetSuite OpenAir PSA gives organisations the ability to run their core business operations including project management, resource optimisation, project accounting, time and expense management, and billing and revenue recognition. Delivering end-to-end automation and visibility, NetSuite OpenAir PSA enables organisations to gain real-time insights, increase project profitability, maximise billable resource utilisation and make informed, data-driven decisions.
Benefit:
Increasing resource utilisation, project margins and on-time project delivery while driving down IT costs, decreasing project accounting and overhead, and expediting billing cycles.
Improving invoicing accuracy, streamlining revenue recognition and increasing visibility into your services organisation.
Empowering the mobile services organisation with anytime, anywhere access in the cloud, supporting users where they work—on the go, at client sites or remotely.



E-Commerce
NetSuite commerce provides ecommerce and point-of-sale (POS) solutions that help businesses move away from siloed online and in-store channels and seamlessly connect all customer touchpoints. NetSuite's cloud solution unifies business operations and commerce applications to provide a single source of item, inventory, customer and order data — so you can create seamless, cross-channel, personalised shopping experiences.
Benefit
Seamless Commerce: Connect every step of a multi-channel, multi-location business — from ecommerce, POS and order management to inventory, financials and support.
Transform the Store: A mobile point-of-sale solution unified with NetSuite equips sales associates with the tools and information to assist and engage shoppers.
Fulfill Orders Quickly: Manage orders from multiple channels — POS, web, call center, mobile, kiosk — all in one place.
Truly Know Your Customers: Get a unified cross-channel view of every customer to provide consistent and personalised service, build loyalty, deepen relationships and grow lifetime value.
Customer Relationship Management (CRM)
NetSuite's Customer Relationship Management (CRM) solution helps companies manage interactions with current and potential customers, partners and suppliers in a single place. With all the capabilities of a traditional CRM solution, such as sales force automation (SFA), customer service management and marketing automation, plus the ability to manage quotes, commissions, sales forecasts and partner relationships, NetSuite CRM provides a seamless flow of information across the entire customer lifecycle — from lead all the way through opportunity, order, fulfillment, renewal, upsell, cross-sell and support.
Benefit:
Single Data Source: A single view of a customer across all channels provides complete visibility into all online, in-store and phone transactions and interactions.
Improved Sales Performance: Get visibility into pipeline and forecasts and streamline the sales process with a fully unified quote-to-order, cash and fulfillment solution.
Effective Campaign Management: Streamline execution of marketing campaigns across multiple channels.
Increased Customer Satisfaction: Support teams can access customer information anytime, anywhere to drive customer satisfaction and retention.
Financial Reporting Compliance Package Solutions
Putting financials at heart, this service helps to deliver Financial Reporting Compliance to our clients for both local requirements and international standards.
These pre-packaged ERP modules provide everything your business needs for a healthy financial management practice including features, processes, and reporting. Our solutions are tailored to be specialised and to comply with any client's accounting standards (IFRS, VAS,..), and we will collaborate to implement the solution to the designated departments of your business which support local or global compliance.
Our solutions:
• Adapt the localisation package for ERP system
• Multiple Books and IFRS supporting for local and global
• Consulting existing ERP customers to apply compliance requirements
• Out of the box Financial Reporting package readiness to use for all customers
Third-Party ERP Extensions
ERP is rather a long journey than just a one-time story. We understand that many businesses cannot implement a whole suite of ERP at once due to many reasons, they adopted partial solutions instead. Later, these solutions require to be extended to align with the improved business processes or even to cover new processes in different departments.
Our service provides clients with any expansion, development or integration needed based on preferences of their industry vertical requirements. We work to evaluate, select, recommend and implement the most suited extended solutions focusing on the completion of the whole system architecture and the sustained functioning of your business.
Our solutions:
Enhancement vertical industry with the 3rd party solutions
Real Estate, Property and Project Management Solutions
Discrete manufacturing or Process Manufacturing
Warehouse management system
Retail Business with Omi Channel and POS System
Digital CRM and social listening & sentiment
Localisation, Roll Out and rebuild project
There are a number of ERP projects that need to implement localisation, but still follow the overall global business requirements. These projects only need some enhancements and proper adjustments to move forward in the right direction.
We help our clients to review both local and group requirements and support roll-outs, identify issues and risks, and quickly apply the new system and customise it for local implementation and compliance.
In collaboration with clients, we will help them to not only deploy the localisation but also re-build and fine-tune your projects to set a strong foundation to ensure customer's ERP project run successfully from now and in the future.
Our solutions:
Heath check and advisory existing ERP system
Strategy for re-implementation ERP project
Consulting the local & global compliance for roll-out project
Training and supporting international ERP project
On demand SLA supporting on going ERP system
"Are you stuck with a current system that no longer serves your needs?"
Grant Thornton provides tailored NetSuite advice for cloud ERP system from a team that understand your organisation.
ERP Pricing Package
Download PDF [1106 kb]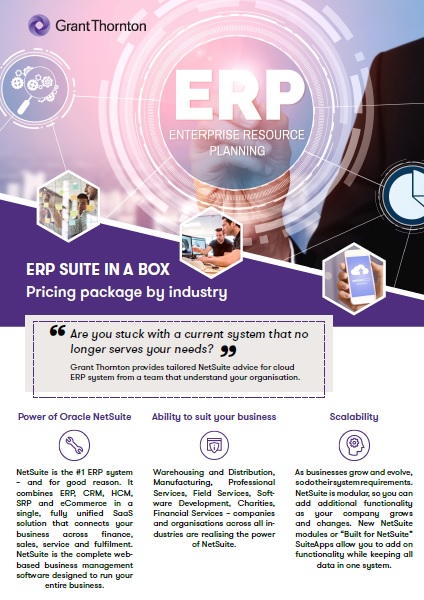 Contact Our Expert
Le Minh Tien
Director, Technology Solutions Consulting
Tel: +84 28 3910 9128
Email: tien.le@vn.gt.com