Grant Thornton's Hotel Survey 2019
Grant Thornton Vietnam today released the results of the Vietnam Hotel Survey 2019. The report this year marks the 16 consecutive year Grant Thornton has conducted the only comprehensive research on upscale hotels and resorts in Vietnam.
Tourism Industry in Vietnam
Vietnam tourism continues to grow, in 2018, albeit with a slower pace compared to 2017. International arrivals reached 15.5 million, an increase of 19.9%, which is slower than 2017's 29.1%. Domestic traveler's growth rate dropped by half, to 9.3%, corresponding to 80 million arrivals.
According to statistics of VNAT, the year 2018 recorded a total of 2,400 new accommodations, of which 83 accommodations were registered as 3-5 Star properties. Out of 83 new properties, which equals to 22,419 keys, 34 of them were 5-Star hotels (17,366 keys) while 15 were 4-Star, equivalent to 2,990 keys. These new upscale facilities are both from existing brands and from new brands or even new operators.
Upscale hotels performance
Average Room Rate
The analysis of upscale hotels was performed by Star Ranking and Region. While 5-Star ranking continued to see their room rates increaseby 4.1%, 4-Star's room rates dropped by 2.3%.
By region, both Northern and Southern regions saw an improvement in room rates, though at a slower growth than last year, with the Southern region achieving the highest growth of 2.7% and Northern at 1.7%. Central region, in contrast, observed a marginal drop of 1.0%.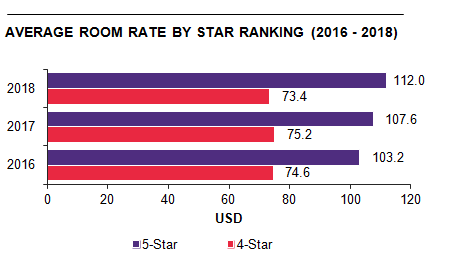 RevPAR
RevPAR of 5-Star increased more significantly as the result of the rise in average room rate. 4-Star's RevPAR, in contrast, showed a decrease of 3.6% compared to the previous year. By region, Southern region achieved the highest growth of 5.5%, followed by the Northern and the Central region with a drop of 0.5% and 2.7% respectively.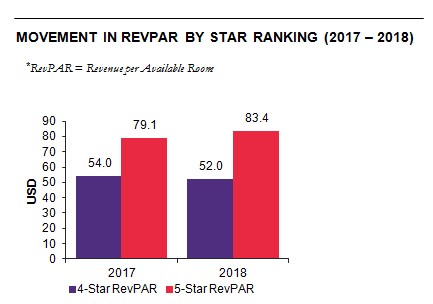 Occupancy Rate
Occupancy rate of 5-Star slightly increased by 0.5% while 4-Star's dropped by 1.0%.From the regional view, while the Northern and Central region observed a drop in occupancy rate of 2.6% and 1.4% respectively, the Southern region's occupancy rate, in contrast, continued to increase even though at a low rate of 1.7%.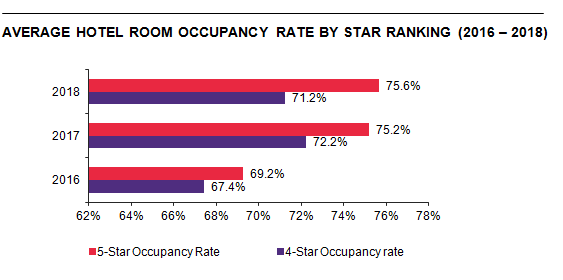 Profitability
GOP and EBITDA of the upscale hotel sector in 2018 showed a slight drop, of 0.5% and 0.6% respectively. This was mainly caused by higher Undistributed expenses, which rose by 1.4% in 2018. Noticeably, the proportion of payroll expense to total sales increased by 1.5%, from 23.7% in 2017 to 25.2% in 2018.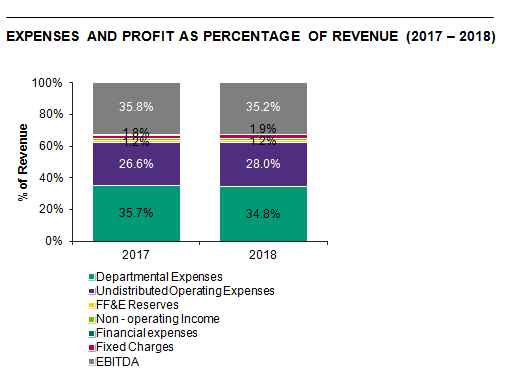 Purpose of stay
FIT/leisure travelers, tour groups and corporate/business travelers continued to be the three biggest components, together accounting for 78% in 2017 and 76% in 2018 of total guests. MICE (Meetings, Incentives, Conference and Exhibits) decreased from 7.6% last year to 6.8% this year.
Reservation Channels
Reservations through Travel agencies and Tour operators (TA/TO), though they continued to be the biggest channel, fell a sharp 5.1% in 2018 (4-Star had a heavy fall of 7.1% while 5-Star fell by 2.8%) and were replaced by the increase in Online Travel Agencies (OTA's) and other channels. By Star rankings, the highest change in reservation channels was 2.3% in wholesalers/ GDS for 5-Star and 2.8% in OTA's for 4-Stars.
Digital technology
Technology is no longer a stranger to Vietnamese hotels, as internet access and smart devices become more widespread. Managing their digital image is now a crucial part of hotels' operation.
Which area of operation have you applied digital technology?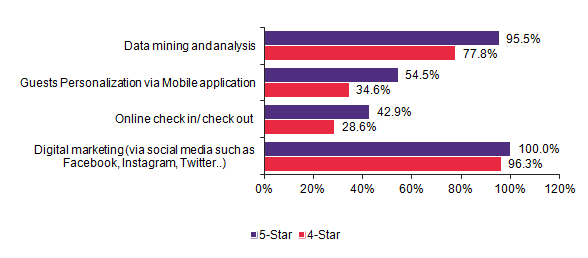 Overall, 5-Star hotels are shown to be embracing more digital development than 4-Star in all 4 questions asked.
Digital marketing via social channels such as Facebook, Twitter and the like continues to be the priority, which results from the increase in guests' usage of numerous social networks. Nearly 100% of participants shared that they used this effective channel to gain more awareness from social network users. Online check in/check out and guest personalisation via mobile application, however, received less attention, with less than 50% of hotels using them.
Airbnb continue its growth in 2018, with 185.4% and 173.88% increase in the number of key listing in both major destinations of Hanoi & HCM City (10,798 & 17,326 keys respectively) as of the end of Q4.2018. The occupancy rate observed was also higher in the latter half of the year and reached its peak in between December 2018 and January 2019 at 63% - 65% (source:AirDNA)
Copies of Grant Thornton Vietnam's Hotel Survey 2019 can be ordered by visiting Grant Thornton Vietnam's website, www.grantthornton.com.vn, or by contacting Grant Thornton on +84 28 3910 9100. An Executive Summary of the survey report is also available for download from the website. 100% of the proceeds raised from sales of the Hotel Survey 2019 will be donated to Newborns Vietnam, a United Kingdom registered charity in Vietnam, dedicated to reducing neonatal mortality in South East Asia, with a specific focus on Danang, Vietnam.
- The end -
Further enquiries, please contact:
Kenneth Atkinson
Founder and Senior Board Advisor
T +84 28 3910 9100
E ken.atkinson@vn.gt.com
Ngo My Linh
Assistant Manager, Marketing and Communications
T +84 909 140 790
E linh.ngo@vn.gt.com
Issued on: 11 July 2019