As the war for talent rages on, more than 70% of businesses are now working to create a more inclusive environment to attract and retain female talent according to Grant Thornton International Ltd.'s Women in Business research, which surveys senior leaders from 5,000 businesses across 29 economies.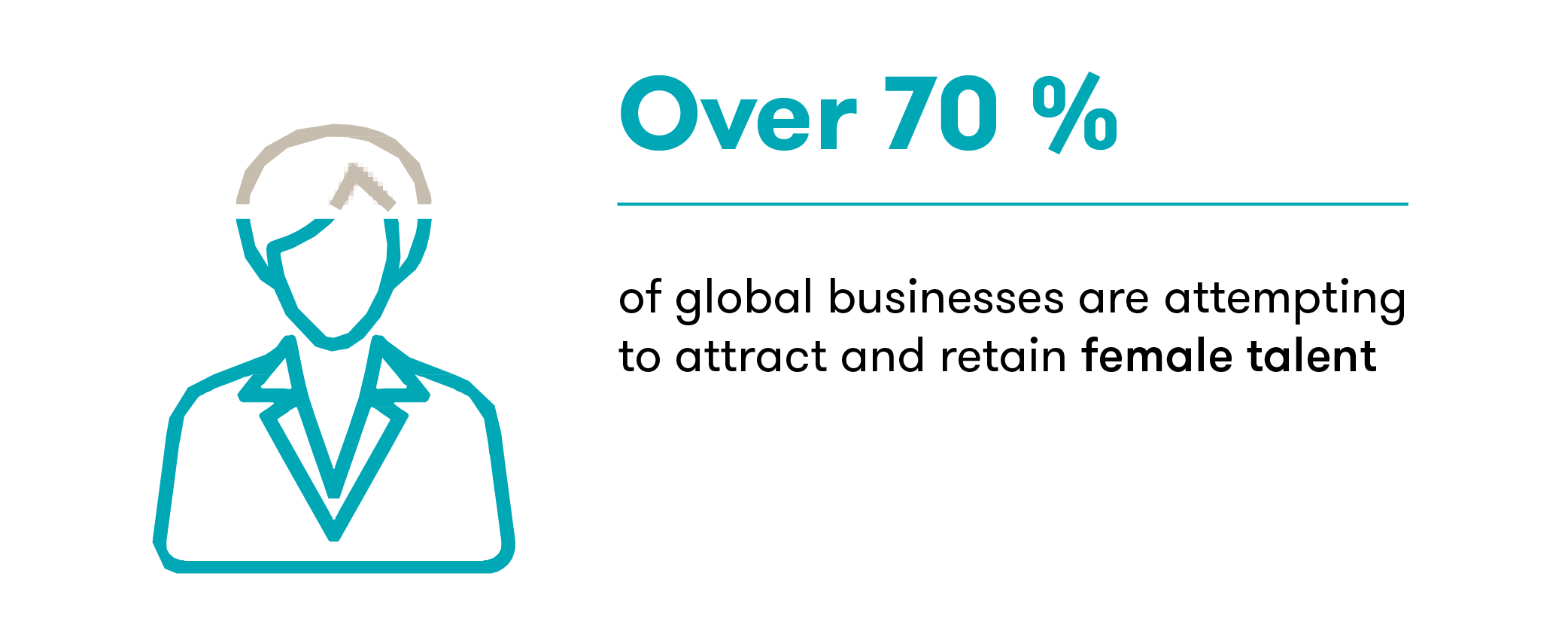 In the early days of the pandemic, few could have predicted the lasting effect Covid-19 would have on established ways of working. Now, with much of the world stabilising, and recognition from businesses that change was needed. The march toward more inclusive working practices to attract and retain a more diverse talent pool continues unabated. With nearly two thirds (57%) of mid-market leaders expecting a skill shortage to be a major constraint to their businesses in the year ahead, Grant Thornton's research shows that in response, 95% of mid-market business leaders are now taking action to foster staff engagement and create an inclusive culture.
Mr Nguyen Chi Trung, CEO and Managing Partner at Grant Thornton Vietnam says: "The war for talent and the great resignation are showing no signs of slowing down, and employees have high expectations and the upper hand in negotiations in a way not seen before. We are seeing increasingly inclusive business practices that are designed to entice prospective employees and preserve talent being rolled out. This is ultimately benefiting many women who, in the past, were confined by more traditional approaches to work. Now, they have the freedom of choice and it's my expectation that this and more inclusive environments are here to stay for the foreseeable future."
As these new ways of working become the norm for many organisations, 88% of respondents in Vietnam agree or strongly agree that working practices during Covid have benefited women in business and a similar percentage in Vietnam expect that the impact of COVID-19 will continue to benefit women's career trajectories long-term. This could be an indication that a step change is on the horizon but in the meantime, the number of women in senior management positions continues its glacial progress, and whilst globally there was an increase of 1 percentage point (pp), Vietnam actually recorded a fall of 6 pp to 33%. This of course could be the result of lock down and school closures forcing mothers to give up work to look after children at home. In comparison Asia Pacific recorded a figure of 30% of senior management positions filled by women in comparison to 37% in ASEAN.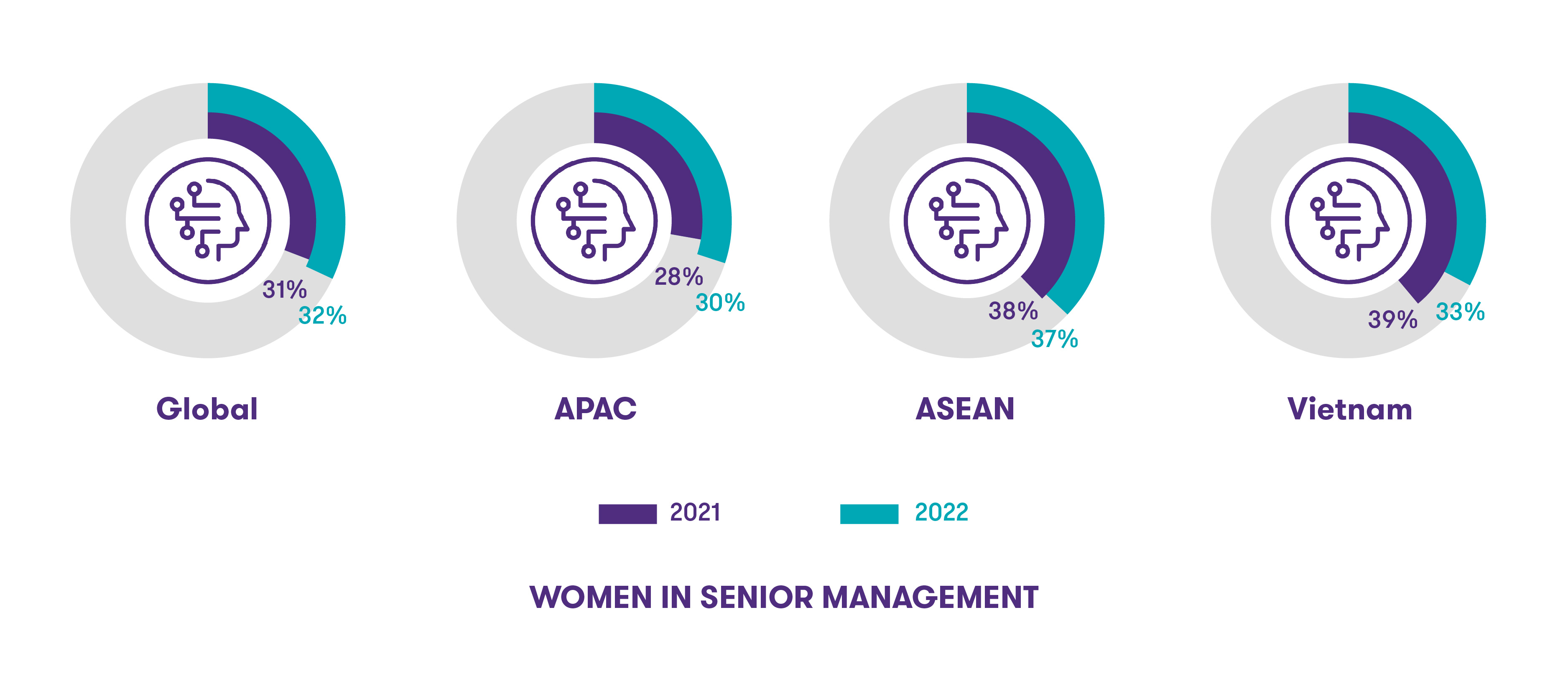 The role of Human Resource Director was the top position occupied by women, in Vietnam, at 68% an increase of 9 pp, whilst the in Asia Pacific the number was 38% (+4pp) and ASEAN 42% (+1pp). In Vietnam the number 2 role occupied by women was that of CFO with 47% but this represented a reduction of 13pp from 2021. In comparison in Asia Pacific women occupying this role was 36% (-1 pp) and In ASEAN 53% (+6pp).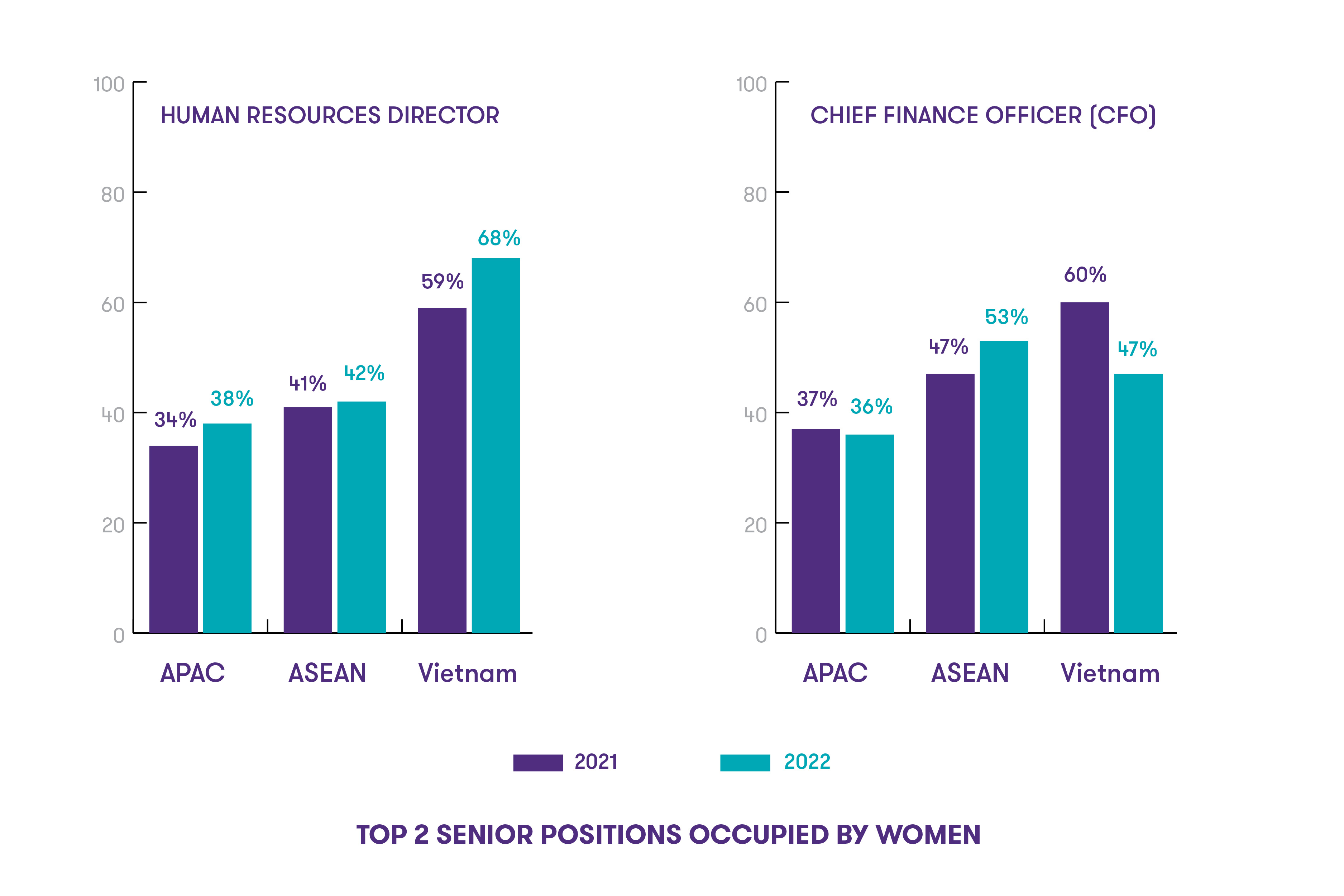 In 2021, our research revealed that the proportion of women in senior management roles had passed the important 30% tipping threshold for the first time. All global regions have now passed the crucial 30% milestone, including APAC, which was the only region not to hit this figure in 2021. Vietnam at 33% is ahead of the curve but sits behind the ASEAN average of 37%.
- Ends -
Notes to editors:
International Business Report
The Grant Thornton International Business Report (IBR) is a survey of mid-market businesses. Launched in 1992, the IBR now provides insight into the views and expectations of 10,000 businesses across 29 economies.
Questionnaires are translated into local languages and fieldwork is undertaken on a biannual basis, through both online and telephone interviews. The data for this release is from interviews conducted in October and November 2021 with chief executive officers, managing directors, chairperson or other senior executives from all industry sectors.
More information: https://www.grantthornton.global/en/insights/articles/About-IBR/
Download PDF [1721 kb]