Grant Thornton expands in Canada, the Caribbean, Luxembourg, the Netherlands and the UK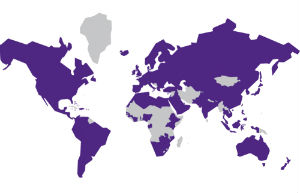 Grant Thornton today announced expansion in Canada, the Eastern Caribbean, Luxembourg, the Netherlands and the UK, following on earlier 2013 expansion in Italy, Indonesia, Senegal and South Africa.
"It is very gratifying when firms want to be part of the Grant Thornton global network," said Grant Thornton CEO Ed Nusbaum. "Every day, more than 35,000 Grant Thornton people in over 120 countries are working together to help dynamic organisations unlock their potential for growth."
In Luxembourg, Grant Thornton merged with PKF, effectively doubling the size of the Grant Thornton presence in the country. The combined firm will bring together 190 people and nine partners and rise to number six in local market rankings. The new firm offers audit, tax and advisory services, and is particularly strong in financial services.
In the Netherlands, consulting firm ConQuaestor joined Grant Thornton, bringing strategic and organisational solutions in the private and public sectors. The addition is seen as a very strategic move for the firm in offering a wider range of quality advisory services that will be delivered by a team of 400 specialist consultants based in Utrecht.
The two top-ranked firms from the PricewaterhouseCoopers Eastern Caribbean group joined Grant Thornton and will serve clients in all nine countries that comprise the Organisation of Eastern Caribbean States. Offices in Antigua and St Kitts & Nevis will serve the five English speaking countries of Antigua and Barbuda, Montserrat, British Virgin Islands, St Kitts & Nevis and Anguilla. The St Lucia office will serve the four English speaking Windward Island countries of Dominica, St Lucia, St Vincent & the Grenadines and Grenada.
Breakwater Accounting Advisors LLP joined Grant Thornton Canada and provides exceptional service in the areas of financial reporting; governance, risk and compliance; and anti-fraud/anti-corruption to both public/private companies and public sector entities. With a strong focus and expertise in the mining sector, the firm, formed in 2008, is a well-known and respected business risk advisory practice.
In the UK, the financial services advisory arm of Navigant joined Grant Thornton, bringing a 45-strong team including three partners and nine directors, with a focus on 'challenger banks' - new entrants to the retail banking space.
Earlier 2013 Grant Thornton M&A activity:
PKF Johannesburg merged with Grant Thornton Johannesburg, doubling that office size to more than 500 professionals and raising South Africa annual revenues to 546 million South African Rand
Grant Thornton Indonesia agreed to a strategic alliance with PT GNV Consulting Services, increasing strength and capabilities in Indonesia
Grant Thornton Senegal merged with Excellence Consulting Group, strengthening the firm's advisory capabilities and further establishing their position as a leader in the local market
Grant Thornton South Africa merged with Fintis and Rebahale to create an enhanced service offering for clients in the South African professional services industry
Ria Grant Thornton (Italy) merged with TickMark, formerly with the Moore Stephens network. The merger increases the geographic coverage of the firm, adding offices in Bergamo and Novara.
Grant Thornton was named International Accounting Bulletin's Network of the Year, largely based on leading the major global accounting organisations with growth of 10.4%, as well as strong thought leadership in the profession on critical global accounting issues such as lease accounting, revenue recognition, EU auditor reform, corporate governance and improving the auditor's report.
Dominic King, Research Manager, dominic.king@gti.gt.com, +44 (0)20 7391 9537
Director of Public Relations and External Affairs
T +1 312 602 8955