Grant Thornton continues growth with expansion in Japan, Italy, Paraguay, Bangladesh and Ethiopia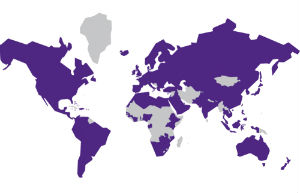 Follows on earlier 2013 expansion in the US, UK, Canada, Netherlands and South Africa
Grant Thornton today announced expansion in Japan, Italy, Paraguay, Bangladesh and Ethiopia, following a number of additional successful mergers and acquisitions around the world in 2013.
"We welcome these firms to Grant Thornton, joining more than 35,000 people in over 120 countries in our mission to help dynamic companies unlock their potential for growth," said Grant Thornton global CEO Ed Nusbaum. "We will continue to look for opportunities to better service clients, including future mergers and acquisitions with high quality organisations."
In Japan, Grant Thornton merged with Kasumigaseki Audit Corporation, previously the core audit service provider for Baker Tilly Japan, strengthening its audit capabilities in the country. The Kasumigaseki Audit Corporation is well established in its local market and brings a strong client list.
In Italy, Ria Grant Thornton merged with the audit and assurance operations of local audit firm, Prauditing Srl, previously with the Moore Stephens network. The merger adds more than 20 professionals to the firm, including two new partners, and revenues of around $1.9 million. The merger will also increase the geographical coverage of Ria Grant Thornton, adding offices in Verona and Vicenza.
Grant Thornton Paraguay doubled in size following its merger with a former Baker Tilly member firm with strong experience in audit for the agribusiness, industrial and financial sectors. This was a strategic move which aligns with plans for Grant Thornton to be one of the top 5 accountancy firms in the region in future.
In Bangladesh, a joint venture between Grant Thornton Pakistan and Howlader, Yunus & Co. has established an advisory services practice bringing together over 100 staff spanning two offices and offering services to a variety of industries including major banks, financial institutions public corporations and family businesses.
Building on an already strong presence across Africa, Grant Thornton firms in Oman and Yemen merged with AW Thomas, a leading Ethiopian accountancy firm to create a new firm in the region. The new firm offers audit primarily with some tax and consultancy services
Earlier 2013 Grant Thornton expansion:
Grant Thornton US acquired the Oracle solutions business unit of Marketsphere LLC, an advisory firm with a team of 160 staff specialising in process and technology solutions.
Grant Thornton UK acquired the financial services advisory arm of Navigant, enhancing its strength in the retail banking arena, and acquired the Individual Voluntary Arrangement (IVA) business of Money Debt & Credit Group.
Grant Thornton Canada acquired Breakwater Accounting Advisors LLP. The new team is well respected in its market and brings with it strong expertise in the mining sector.
New member firm in Libya, operating under the name of Badi Chartered Accountants and Auditors, providing audit, tax and advisory services.
PKF George office in South Africa merged with Grant Thornton South Africa. The office has a history dating back more than 30 years and offers a wide range of audit and accountancy services that are provided by a team of 43 staff and four directors.
Grant Thornton Luxembourg merged with PKF, effectively doubling the size of the Grant Thornton presence in the country. The combined firm will bring together 190 people and rise to number six in local market rankings.
Grant Thornton Netherlands merged with consulting firm, ConQaestor offering a wider range of quality advisory services that will be delivered by a team of 400 specialist consultants.
Grant Thornton Indonesia agreed to a strategic alliance with PT GNV Consulting Services, increasing strength and capabilities in Indonesia.
Grant Thornton Senegal merged with Excellence Consulting Group, strengthening the firm's advisory capabilities and further establishing their position as a leader in the local market.
Grant Thornton South Africa merged with Fintis and Rebahale to create an enhanced service offering for clients in the South African professional services industry.
PKF Johannesburg merged with Grant Thornton Johannesburg, doubling that office size to more than 500 professionals and raising South Africa annual revenues 98 to 546 million South African Rand.
Ria Grant Thornton (Italy) merged with TickMark, formerly with the Moore Stephens network. The merger increases the geographic coverage of the firm, adding offices in Bergamo and Novara.
Grant Thornton was named International Accounting Bulletin's Network of the Year, largely based on leading the major global accounting organisations with growth of 10.4%, as well as strong thought leadership in the profession on critical global accounting issues such as lease accounting, revenue recognition, EU auditor reform, corporate governance and improving the auditor's report.
Director of Public Relations and External Affairs
T +1 312 602 8955