Grant Thornton named one of the Top 50 most attractive global employers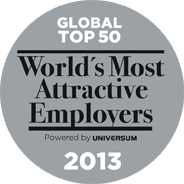 A survey of more than 200,000 business and engineering students from 12 of the world's largest economies named Grant Thornton one of the top 50 most attractive global employers, placing 35th. The survey was conducted as part of the Universum Annual Student Survey.
"We are honoured by this award, and it is a testament to the 35,000 Grant Thornton people working in 120 countries who make Grant Thornton the organisation that it is," said Grant Thornton global CEO Ed Nusbaum. "One of our ambitions is to provide a workplace where our people can unlock their potential for growth, both at work, at home and in their community."
In placing in the top 50, Grant Thornton is "distinguished as an ideal employer in the professional services sector."
The rankings are based on the opinions of business and engineering students from top universities in the world's 12 largest economies: Australia, Brazil, Canada, China, France, Germany, India, Italy, Japan, Russia, UK and US. The research was conducted by Universum, a leading global research and employer branding consultancy. To be considered in the World's Most Attractive Employer ranking, an employer must be in the top 90% of the Universum Ideal Employer ranking in at least 6 of the 12 largest economies. The results are then weighted based on the GDP of each market.
Earlier this year, Grant Thornton was named International Accounting Bulletin's 2013 'Network of the Year', largely based on leading the major global accounting organisations with growth of 10.4%, as well as strong thought leadership in the profession on critical global accounting issues.
Director of Public Relations and External Affairs
T +1 312 602 8955