Grant Thornton's Hotel Survey 2015 reveals that average room rates had a slight increase whilst occupancy rates decreased in upscale hotels across Vietnam during 2014.
3rd July 2015
Grant Thornton Vietnam today released the results of the Vietnam Hotel Survey 2015. The report this year marks the 12 consecutive year of Grant Thornton conducting the only comprehensive research on high-end hotels and resorts in Vietnam. In this year's survey, we do not include 3 star hotels because of the level of response and change in hotel mix in this category, and we focus on the upscale hotel industry, covering 4 and 5-Star hotels. This year for the third year in a row the survey analysed environmental issues across hotels in Vietnam, conducted on behalf of the European Union-funded Environmentally and Socially Responsible Tourism Capacity Building Programme (ESRT) on behalf of Vietnam National Administration of Tourism (VNAT).
Although Vietnam did not meet the expectation of 8 million for the year, the country welcomed 7,874,312 international visitors an increase of 4% compared to that of 2013. Despite the fact, the survey this year showed an increase in the proportion of international guests staying in 4 – 5-Star hotels; with 83%, being 3.4% higher than 2013.
According to the survey results, RevPAR, a standard industry measure of room utilisation and return, experienced a slight decrease of 1.8% from USD60.42 in 2013 to USD 59.31 in 2014. A drop of 2.0% in average occupancy contributed to the decrease of RevPAR.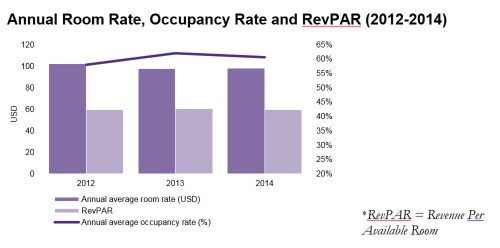 The analysis of upscale hotels was performed by Star ranking, Region and Hotel size. The year 2014 showed an overall decrease in Room rates of 5-Star hotels, with a decrease of 6.4%, while 4-Star showed an increase at 3.6%.
When analyzing by annual average occupancy rate by Region, the was an increase in Central and Highlands by 2.3%, while both North and South performed worse than the previous year with a reduction of 1.7% and 6.6% respectively.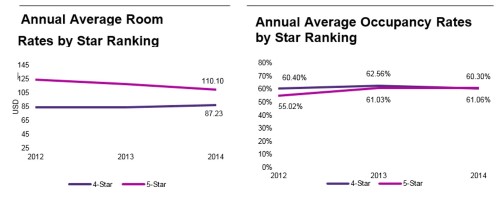 In terms of revenue and expenses, upscale hotel sector showed a worse performance in 2014 with an overall EBITDA of 34.0% compared with 2013, a decrease of 5.5%. The decrease in 2014's EBITDA was due to the changes in cost structure, in particular a sharp increase in G&A expenses by 2.7% and other operating expenses by 1.9%.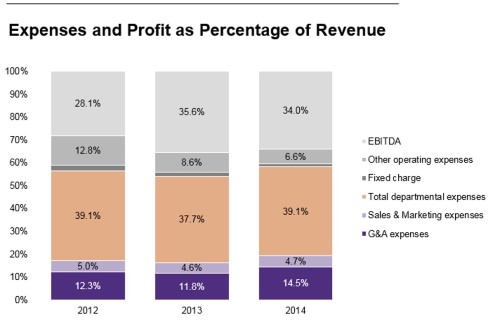 Regarding Purpose of stay, individual tourists and tour groups still maintained the leading position as the source of guests staying at 4 and 5 star hotels in 2014, with 35.3% and 26.3% respectively. Business travelers significantly increased by 27.9% achieving 18.8% of total guests in 2014. Conference tourists dropped by 3.3% compared with 2013 although Vietnam has been considered as a MICE (Meeting, Incentive, Conference and Exhibition) destination in Asia.
Hotel reservations via travel agents and tour operators decreased to 45.7% in 2014 from 48.0% in 2013. This channel however remained the most preferred method for all hotels and regions. Direct booking with hotels increased by 16.1% and remained the second most popular method with 28.5%.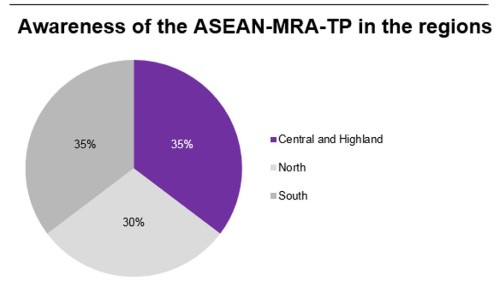 In 2015, the ASEAN economic community will be launched, aiming to bring a greater integration between ASEAN member states. For tourism professionals and the industry, MRA-TP will facilitate the mobility of tourism professionals based on tourism competencies and recognised skills of tourism professionals in order to enhance the quality of tourism services.
85% of surveyed hotels stated that they are aware of the MRA-TP (Mutual Recognition Arrangement on Tourism Professionals) signed between Vietnam and other ASEAN member states, of which the majority of respondents are from 5 stars hotels. Meanwhile, 15% of hotels who do not know about the ASEAN MRA-TP were from Central and Highland and the Northern regions of Vietnam.